25. März 2023
Die Lage in Myanmar zwei Jahre nach dem Putsch & die Entwicklung deutscher Myanmar-Politik
24. September 2023
Tag 966 – über 4100 Tote und 24832 Inhaftierte — Myanmars Junta tötete nach Angaben von Rebellengruppen am Freitagabend 24 Widerstandskämpfer der Region Sagaing und zwei […]
17. September 2023
Tag 959 – über 4078 Tote und 24777 Inhaftierte — Die Bevölkerungsagentur der Vereinten Nationen erklärte, dass sie keine Rolle bei der von der Junta Myanmars […]
10. September 2023
Tag 952 – über 4056 Tote und 24740 Inhaftierte — Das Militärregime wird wahrscheinlich im Jahr 2025 Wahlen abhalten, so ein hoher Beamter der vom Militär […]
6. September 2023
Eine Ausstellung und Event-Serie mit 16 Exil-Künstler*innen aus Myanmar
Culture on tour - MyanmarBike

We will take the "MyanmarBike" and start a ride across Baden-Wuerttemberg, Germany. It will start soon - to get informed, check out the page! 
Culture on tour in "The Länd"
The world is changing and we can only stand by and watch? No! Democracy is alive and you are a part of it! We inform and show what you can do. Learn what immigration and climate change in the global south have to do with us. 

A bike, a trailer and a lot of impressions! We will ride CO2 neutral from place to place and demonstrate with films, lectures and exhibitions what is going on in Myanmar. Join us and dive into the world of geopolitical contexts and political aspects of development - and the best: All this with a cup of freshly brewed tea from the MyanmarMobile.
#whatishappeninginMyanmar
On 01.02.2021, the military in Myanmar staged a coup. It occupied the parliament and prevented the newly elected government from holding its inaugural session. High-ranking government politicians and other leaders and activists were arrested and their communication with the outside world was cut off. The Myanmar public reacted immediately. With the help of social media, much of civil society turned out to protest on the streets of the cities. Meanwhile, female employees of the Ministry of Health formed the General Strike Movement of Civil Disobedience (CDM), which brought the country to a standstill.

A wide range of creative, colourful forms of protest came together in the protests of the first weeks after the coup. But the military selectively escalated and is extremely brutal against the demonstrators.
On 9 February, Mya Thwate Thwate Khaing was shot dead during protests in the capital Naypyidaw and became the first fatality of the coup. Since then, the military and police have increasingly used violence against protesters and the population: people are randomly executed with targeted shots to the head, armed "security forces" storm citizens' homes at night and spread terror. Thousands have been arrested: while some are under house arrest, it is unclear where many of those arrested are being held and whether they are still alive. On 27 March alone, the official military holiday, over 100 people were cruelly and arbitrarily murdered. The situation is also escalating in the border areas. Armed conflicts with armed groups are flaring up again. The country is on the brink of civil war.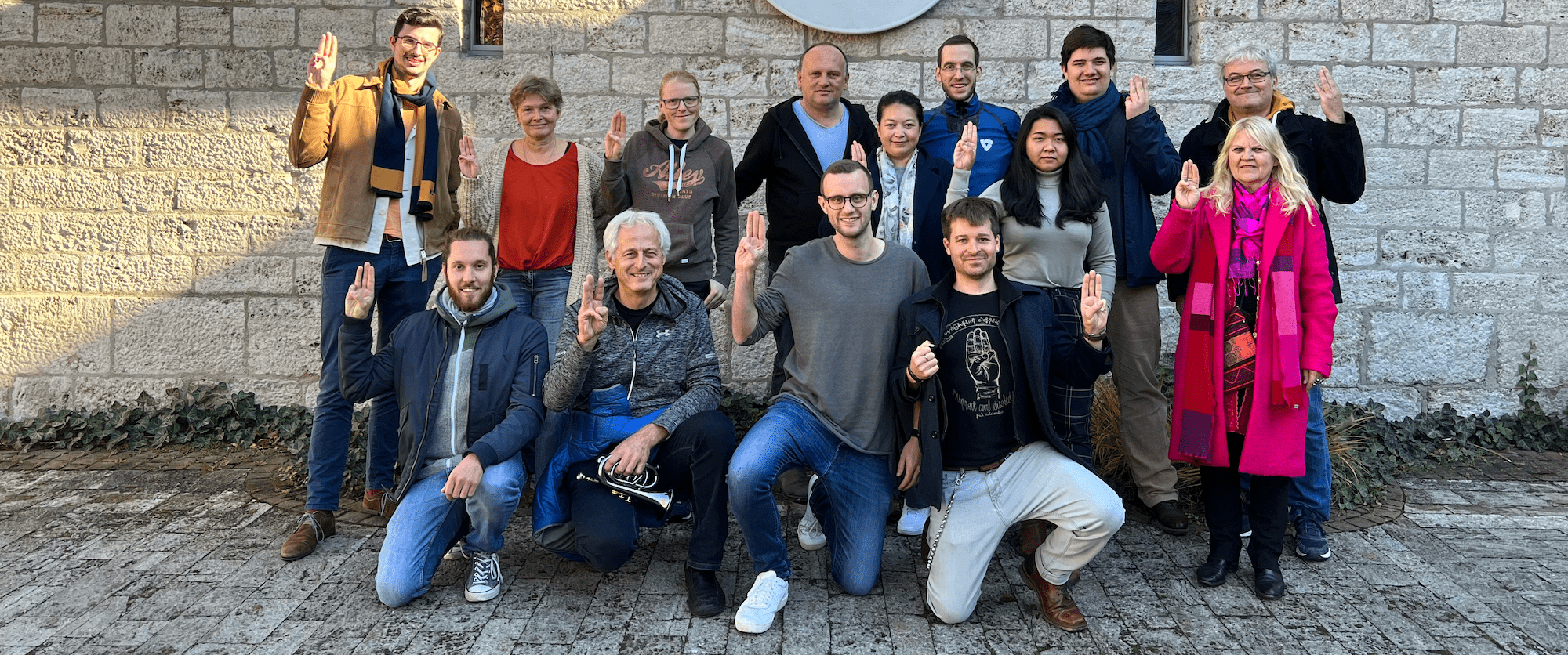 ---
We, the association "German Solidarity with Myanmar Democracy e. V.", are a group of people who live predominantly in Germany and who support a free, democratic and inclusive Myanmar.

We support the demands of civil society actors for a free, democratic and self-determined Myanmar. In doing so, we recognise that the domestic political situation in Myanmar is complex and multi-layered. The country's future can only be sustainably shaped from within. Our hopes lie in the realisation of human rights towards peace, federalism and democracy.