How we can all support Myanmar Democracy
---
We at GSWMD often get asked 'what can we do in Germany to support Myanmar democracy?'. Here is list of tangible actions we can all take to support the Myanmar resistance in their efforts to bring democracy to their country.
DISCLAIMER:
GSWMD are not affiliated with any of the groups listed here and we do not assume any responsibility for their actions. Please email us for comments and feedback. 
Stay informed
Stay up to date on the situation in Myanmar by following reputable news sources that provide accurate and timely information. Share information about the situation in Myanmar on social media and help amplify the voices of those who are standing up against the military junta. Here are our favourite media sources:
In German
In English and Burmese
Myanmar Now – an award-winning media agency that publishes in Burmese and English
myanmar-now.org

Mohinga Matters – weekly updates on Myanmar, set up by aspiring writers
mohingamatters.com
The Irrawaddy – established in 1993, publishes news articles in both English and Burmese
irrawaddy.com
Frontier – a widely-read and award-winning news magazine, operating an English and Burmese website
frontiermyanmar.net
Mizzima – a Burmese multimedia news organisations, first established in 1998 in exile, publishing in English and Burmese
mizzima.com
DVB – broadcasts Burma-related news and content since 1992. It was founded as a non-profit media organization based in Oslo, Norway and Chiang Mai, Thailand
english.dvb.no
Khit Thit Media (in Burmese) – established in 2018, and nowadays a primary source of information for many Burmese people on Facebook
facebook.com/khitthitnews
We also recommend regularly checking out Myanmar news from The New Humanitarian, The Diplomat, Al Jazeera, Foreign Policy, Deutsche Welle, Nikkei Asia, Reuters, ReliefWeb, the Jakarta Post, the Bangkok Post, and many others. Just google 'Myanmar' and hit the news in your preferred language. Although Myanmar is often perceived as a 'forgotten crisis', there is in fact plenty of information out there, in many languages.  
Myanmar-Podcasts
in English
Donate
Every small contribution makes a big difference.
We recommend to donate to small grass-roots organizations that are doing effective work on the ground. Please consider donating funds if you can. 
Several organizations active in Myanmar and on its borders are supporting the people during this difficult time. We are listing many German-based organizations due to the ease of providing donations from Germany. Here are our favourites:
In Myanmar
On the Thai/Myanmar border
Donate to us
If you like what we do, please feel free to donate to us as well. We have listed the ways to donate to us here.  
Join a Myanmar event or protest near you
GSWMD contributors and our partner organisations have set up a variety of events in Germany throughout the year, celebrating Myanmar's rich culture and advocating for democracy. Please check out our calendar of events, get in touch for more information, and participate. Many brave people in Myanmar are following what we are doing, and are incredibly thankful for your interest and your support.
Contact us for more information and participate. Many people in Myanmar follow what we do, and we are incredibly grateful for your interest and support. 
Especially during times of conflict it is important that the people can keep their culture and identity and live. There are always actions, events and exhibitions in Germany, in which the culture of Myanmar is shown.
Feel free to organize something yourself, be it a cinema event, an exhibition or an art project. We are happy to help you with the contact of artists from Myanmar, just contact us.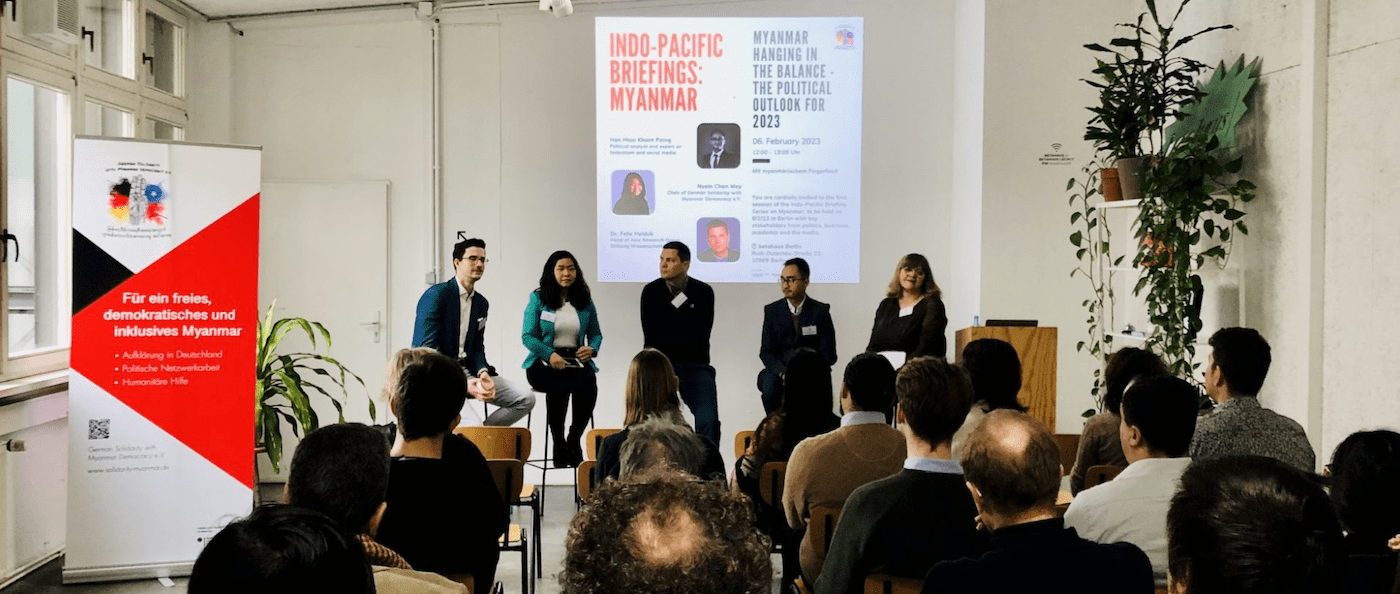 Provide your time and skills
Volunteer and help professionally.
We at GSWMD would really appreciate your assistance for the many projects that we are doing in Germany to raise awareness on Myanmar. Although our volunteers have achieved a lot already, we are always on the lookout for further engagement with Myanmar supporters. Volunteer your time, your skills and your talent across one of our many projects. We are always looking for volunteers who would like to work with us! The work we do is very varied and across different sectors. Please contact us, become a member of our organization, and contribute your time and skills to help us achieve our aims. Due to our wide network, we can also recommend meaningful volunteering options on the Thai/Myanmar border. Just get in touch with us!
Influence authorities directly
Personally email your members of parliament to take action to support the pro-democracy movement in Myanmar, including imposing additional targeted sanctions on the junta, and actively supporting the resistance to military rule. As a German citizen, you can find out who are the members of parliament that are responsible for you on Abgeordnetenwatch by simply adding your post code. We set up a draft message for you here, which you may wish to use when contacting them. Generally, we recommend to be polite, to use good arguments and to convince by simply focusing on the essentials.
In order to be able to go into a conversation informed, should one come about, you can read through the political briefing on Myanmar beforehand.
Raise funds
There are many ways you could contribute to raising funds for the people in Myanmar, who really need your help. Previous fundraising events have included showing Myanmar films, offering Myanmar food, offering Myanmar talks, raising raffle tickets, cake sales, taking a sponsored walk or run, and many others. Please get in touch with us for creative ideas and support.
Support us
We are a young organization, founded shortly after the coup in 2021. We are entirely funded through donations – if you like what we do, then please consider donating to us here.
We are a very interesting and lively group of Myanmar enthusiasts in Germany, who regularly get together and volunteer our time and skills for the purpose of defending Myanmar democracy. Get connected with the Myanmar community in Germany through joining our organization by becoming a member (only 25 Euros a year!). You can get to know us by participating in our events, or you can sign up to our newsletter here. Follow us on Facebook and Instagram, learn more about us by getting in touch and provide us with your feedback.
Private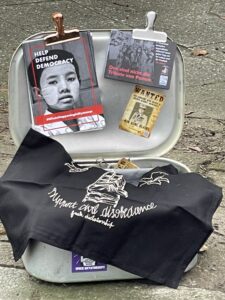 Especially during times of conflict it is important that the people can keep their culture and identity and live. There are always actions, events and exhibitions in Germany, in which the culture of Myanmar is shown.
You can also do a lot in your private circle! Talk about the topic with your friends, family, colleagues and people you know. Discuss and exchange ideas. If you want to go beyond that, recommend our newsletter. This will keep the people you have talked to actively informed. You want to inform your community even more? Great! We support you, send us a message with your name and address and we will send you free flyers, postcards, stickers and information material.
Lastly, a note of thanks from Myanmar
Youth activist Ko Padaythar recently said in an interview with Mohinga Matters:
"I just want to say that we are grateful for the support from the international community and diaspora groups across the globe for keeping their attention on our revolution to this day. I'd like to request them to understand us and support us by sharing knowledge. In the Spring Revolution, we young people are trying to alter our country's fate, but we also grew up in an isolated society where education was deliberately destroyed by the previous juntas. We are trying our best to be open-minded, and learning as much as we can while fighting against the regime. I'd like to request the international community and diaspora groups to understand our struggles and support us by sharing knowledge and providing educational resources that we do not have. While the younger generation is picking up arms and fighting in battles, the older generation is also helping us by sharing their knowledge and experience. So even if you can't support us or help us physically, share knowledge or help us get connected with the world."